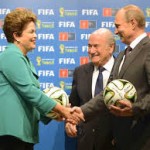 Brazil staged a brilliant FIFA World Cup in 2014 and failed to take the trophy in front of their electric fans.
Now we look to the build up for Russia 2018.
The whole of Europe is happy to see this magnificent event in their backyard and will be working over the next 4 years to produce a galaxy of super stars.
You can expect to see Messi to mature a little more and lead Argentina one step better.
Ronaldo will be determined to step up and drag his Portugal mates to a higher level.
Neymar needs to continue in his rich vein of form and drive Brazil onwards.
Will Rooney survive 4 years of Premier League football in England?
Ozil will be hitting his straps at the right time in a revamped Germany.
James Rodriguez from Colombia is expected to be a household name.
Will Paul Pogba as the "Young Player 2014" live up to the expectations for a new look France.
Of course our Soccroos will be experimenting to get the right mix and head to their 5th World Cup.
Ultimate Sports Travel will be there!
Make sure you sign up for your special tour package.