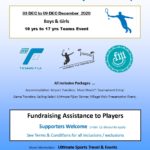 Click here for Fiji Tennis Cup 2020 website
After a fantastic tournament in 2019, Ultimate Sports Travel are pleased to advise the third Ultimate Fiji Tennis Cup will be played in December 2020.
Players from Australia and New Zealand will take on Fiji in the Boys and Girls ages 10 to 17 years.
We look forward to some intense matches as the local Fiji players take on their international guests on home soil.
International Tennis is a rewarding experience for all involved and the Aussie & NZ players will be in for a battle with Fiji showing marked improvement over the last few years. The development of Fijian players has been very calculated with neighbouring countries regularly travelling to Fiji for matches.
Australia will have a limit of just 30 players travelling for this years event but expect a strong contingent of vocal supporters to be with them.
Ultimate Sports Travel have complete packages for all families to enjoy not just the great tennis but a host of cultural and fun events along the way.
Contact Bruce (0418 679 866) for more information but don't delay as positions are limited.
Travel dates are Thursday 03 DEC to Wednesday 09 DEC 2020.
Extension holidays are available.