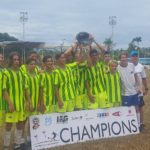 Fiji Soccer Cup 2016 has been a grand success.
Honours were shared by Fiji and International teams.
Nearly 400 international visitors enjoyed the banter of competition and the serenity and loving of the Fijian people.
Memories were made to last forever.
The facebook page showcases many wonderful moments for all to see.
We look forward to 2017 with new team entries and some returning for a second or more visit.